Der Name
1990
Videoskulptur: Gestell aus Stahl, Röhrenfernseher, Sender
400x200x250 cm
Discover European Video
Anthology Film Archives, New York
Mit Der Name entwickelt Bielicky sein Werk ausgehend von Menora konsequent weiter. Auch hier spielen die kabellose Übertragung von Informationen zwischen symbolischen Objekten sowie ein noch freierer Umgang in der Anordnung von Medien innerhalb einer fixen Struktur, nun auch in die Tiefe des Raums, eine Schlüsselrolle. Bielicky thematisiert eine vernetzte Welt über das Symbol der Spirale, das in unterschiedlichen Zusammenhängen als Informationsträger fungiert. Auf die sieben Röhrenfernseher wird über eine schwarze, reflektierende Kugel, die als Sender fungiert, aber als solcher nicht gleich erkennbar ist, ein Video von einer Flamme übertragen. Der Name ist das erste begehbare/proto-interaktive Werk.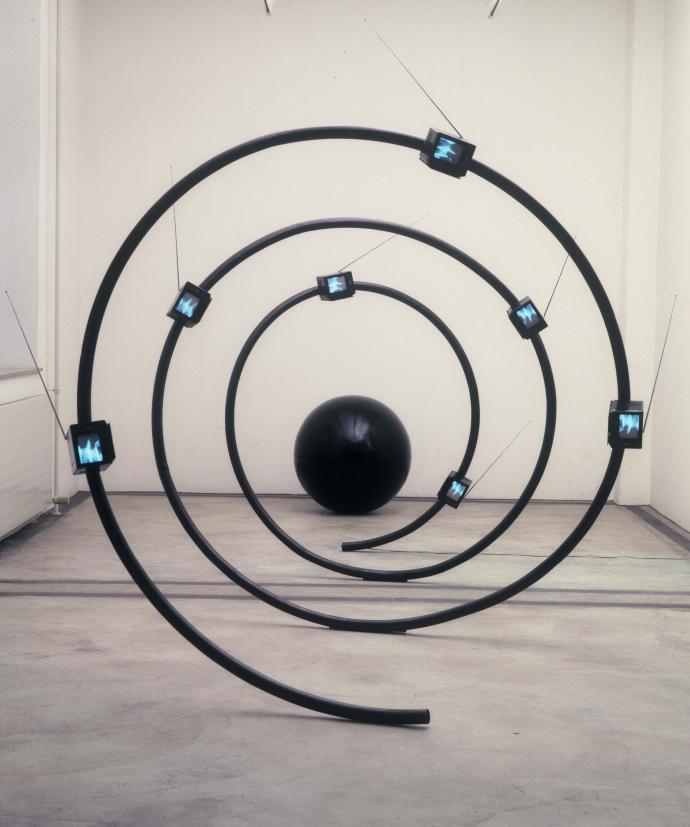 One can walk through the spiral like through a tunnel. At the end oft hat tunnel is a black sphere (the somewhere). A small TV transmitter transmits the information (in the form of a flame) to the carrier, the spiral, and the receivers (TVs). Information always moves through time and space in the same form. It always has the form of the spiral. The sounds of human language move through space in the same way as our solar system moves through the universe. We store information on a computer disc in a sprial form, as we do on a videotape.
Michael Bielicky
The Name (1990), which is technically akin to Menorah/Inventur (the small televisions are receivers for a video source nearby, fire and screens are intertwined as a symbol of and a mean of communication), is the perfect balance of technical expertise and historic cultural mystery. Bielicky unmasks technology as one Metanarrative among many.